Libro de Obra 8.0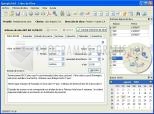 Download
Professional tool to make daily work reports, work logbooks and construction diaries.
El Libro de Obra 8.0 is a software that lets you make daily work reports, which in other countries are also called Daily workbooks, Work logbooks, Order books, or Construction diaries. It helps architects, work engineers and construction companies document visits and inspections.
The workbook is one of the most important tools to make arguments and misunderstandings clear, and is also valuable in any tribunal. All important acts and data, with corresponding photos, are processed and administered with this simple and quick software: El Libro de Obra 8.0.
Some particularly outstanding characteristics: rapid and easy registry of daily individual reports, entries for people and companies involved in the work, access for all of them in the program, inclusion of relevant photos as the work advances, PDF generation and email sending to predefined people.
Download
Libro de Obra 8.0 related downloads

Download
Complete tool to calculate the cost of a building project.